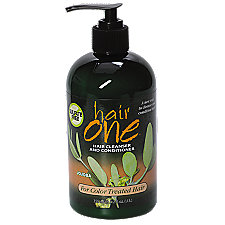 Hey Everyone,
How are my Beauts doing this fine evening? Good news, my blog has been getting way more views thanks to everyone who has been recommending. I wanted to again give a special shoutout to anyone who recommended me. You guys are all fabulous! Don't forget that I also have a facebook page yearning for fans.
So, are any of you familiar with the product
Wen ?
If not, it's basically a sulfate free cleansing conditioner. I came across a 'knockoff' if you will, of
Wen
called
Hair One
. It probably about a forth of the cost of
Wen
. I have never tried either, until now. I found the
Hair One
packettes at a local Sally Beauty Supply store and decided to give it a whirl. (I also needed to wash my hair that night and had ran out of shampoo) It was about $3 for the packette. I have alot of hair, it's finer, but I have alot of it. The packette, suprisingly, covered my whole head. Since it's sulfate free, the are absolutly no suds, which means that it wont lather at all. It's basically putting conditioner all over your hair. Before you write this off, let me explain the benefits. Cleansing condioner claims to cleanse and moisturize the hair without stripping the natural oils or the color. Cleansing conditioner is a good idea when taking a break from the normal everyday shampoo's because it gives your hair a break from sulfates which can weaken hair and fade color.
When I started putting it on, I noticed that I needed alot of it. There is alot more required than normal shampooing. First, you have to rinse your hair thouroughly before applying the cleanser. Then you apply a good sized amount to your roots and work it in for like 3 minutes. When I say 'Work it in' , I mean WORK IT IN! I had to add more to cover my roots. After that you add it to your hair to cover mid-shaft to the ends. I really worked it in to get the full affect and the best results. The instructed suggest leaving it on for 3-5 minutes before rinsing.
So, was it worth the work? Was I converted to
Hair One
girl? Well, the answer to both those questions is a big fat 'NO'. I thought that it was more trouble than it's worth and was quit disappointed. I am one of the people who likes their hair to squeak when it's washed. And I'm sorry, sulfates or no sulfates, I like my shampoo to lather. I think it cleansed well, but I just don't like this 'sulfate free' thing. It really defeats the purpose to me. Now that being said, some people try not to wash their hair often and may appriciate this product as being a cleansing conditioner. I am not now, nor will I ever be a
Hair One
girl. I will stick to my
Mane 'n' Tail
thank you.
Now, onto bigger and brighter things, like my new M.A.C lipstick!
I am totally in love with this color. I tried it on for the first time today just before work. My theory was that by the time I got to work it would be rubbed off anyways, but it didn't! This stuff stuck like no tomorrow. It lasted me my entire 6 hour shift (was a pale pink by the end of the day). I got tons of compliments on it. This was quite a splurge for me, it was about $20ish after taxes. But after seeing my manager with it, I knew it was meant to be.It is part of the
Viva Glam
collection and it's a Nicki Minaj color. Apparently every cent goes to charity too, so I guess that's a good thing. Looking hot and supporting a good cause, sounds fair :)
Well, that's it for me Lads.
Lots 'o Love.
Sarah